Career & Academic Counselling
Career and Academic Counselling
Maclean's 2019 University Rankings
Scholarship Websites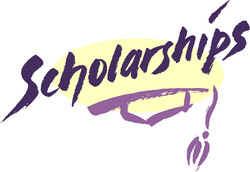 TD Community Leadership Scholarship
Terry Fox Humanitarian Award

Deadline: Feb. 1, 2019
Terry Fox Humanitarian Awards are open to students of all abilities.
To be considered for the Award, applicants must meet be:
In good academic standing.
Canadian citizens or landed immigrants.
Students graduating from secondary (high) school or students completing their first year of CÉGEP or students who have completed secondary (high) school
Involved in voluntary humanitarian activities (for which they have not been compensated).
Planning to or are already studying towards their first university degree or diploma at a Canadian post-secondary institution, or entering their 2nd year of CÉGEP in the upcoming academic year.
Terry Fox Award Recipients are eligible to receive the Award until they graduate with their first university degree or diploma (for a maximum of four years), provided they maintain satisfactory academic standing and a standard of humanitarian work and personal conduct which, in the opinion of the Board of Directors, justifies the award.
Applicants must provide three (3) referees and upload online an (un)official transcript detailing the applicant's last two years of schooling (official transcripts, sealed by the issuing institution will be requested from applicants who are selected for an interview). Referees will be emailed a link requesting they complete an online Referee Form on behalf of the applicant.
The online application, including all the accompanying documents, must be completed and submitted online by the deadline – before midnight. Applications and all documentation (including Referee Forms and unofficial transcripts) received after that date will not be considered, nor will they be held over for the next year.
Admission Deadlines
Some schools offer scholarships and/or other perks for applying early. Please see the attached document(s) for application deadlines at the main Alberta colleges and universities. 
Also note that some programs have specific deadlines different to the rest of the institute. Please research your desired program and do not hesitate to ask questions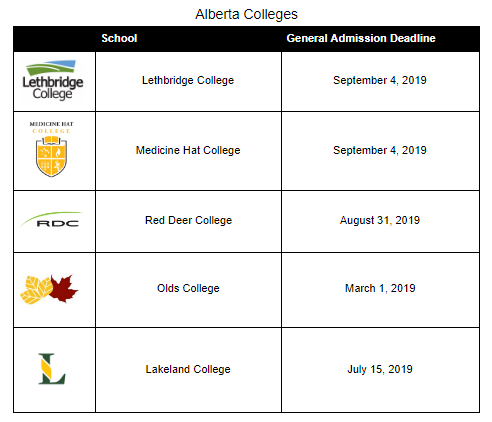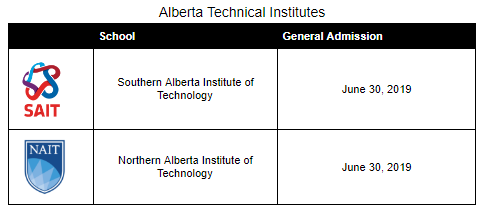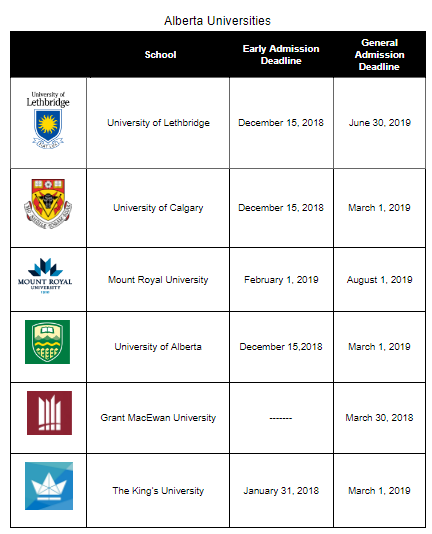 Student Loans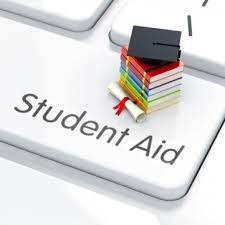 The Alberta and Canada governments provide student loans and grants to help you reach your post-secondary educational goals.
When you apply as a full-time student, you are considered for both Alberta and Canada student loans and grants. Financial assistance is also available for students studying part-time.
Alexander Rutherford Scholarship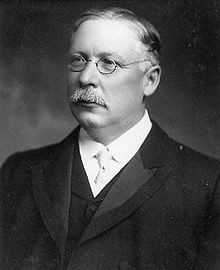 Apply Alberta

ApplyAlberta is an online application and transcript system that anyone can use to apply to undergraduate programs at one or more of Alberta's public post-secondary institutions. 
Spring 2019 Open House Schedule
List of Universities in Canada (click here)
University of Lethbridge - Saturday, February 2, 2019 | 10:00am - 3:00pm (Lethbridge)
Lethbridge College - Saturday, February 9, 2019 | 10:00am-2:00pm (Lethbdridge)
St. Mary's University - Saturday, February 9, 2019 / Wednesday, May 15, 2019 | 10:00am-3:00pm (Calgary) 
Ambrose University - Wednesday, February 14, 2019 | 4:00-7:00pm (Calgary)
Kings University - Saturday, March 2, 2019 | 10:00am-2:00pm (Edmonton)
Prairie Bible College - Friday, March 8, 2019 / April 6, 2019 | 10:00am - 3:00pm (Three Hills)